We are excited to announce that effective February 1, 2022 Northland Community Credit Union has merged with CSD Credit Union! CSD has been serving the Kansas City community for over 62 years with the mission of providing financial services at a fair and equitable rate.
At CSD Credit Union, we work hard to live the credit union philosophy of people helping people every day. Service to our members comes above all else. Our employees are friendly people who genuinely care about our members and about one another.
What's Changing
Credit Union Name: Northland Community is becoming CSD Credit Union
Account Number: Effective February 1, 2022, your accounts and loans will automatically transfer to CSD Credit Union. On that date, your account number will change to eight digits by placing a "2" and adding as many zeros as necessary at the beginning of your current account number to reach eight digits. For example, if your current account number is 1234 your new account number will be 20001234. If your account number currently has eight digits, you will replace the first digit with a "2".
Payroll Deposits / ACH / Routing Number: To ensure proper posting of deposits and ACH you will need to inform third-parties of your new account number and routing number. Effective February 1, 2022, your new routing number is 301080774. Please contact us if your company or third-party requires a direct deposit letter. *On a temporary basis, deposits and ACH will continue to be processed as usual.
Checks: Although your routing number will be changing, you may continue to use your remaining checks. New checks can be ordered by contacting CSD Credit Union at 816-763-4020.
Phone Number / Website: Effective February 1, 2022, the credit union's phone number will change to 816-763-4020 and the website will become www.csdcu.org.
Operating Hours: Lobby and drive-thru hours will remain Monday - Friday from 9:00a - 5:00p. Additionally, hours have been expanded to include Saturday drive-thru services from 9:00a – 12:00p.
Telly Teller: Telly Teller will be discontinued as of February 1, 2022.
Online Banking / Mobile Banking: After January 31, 2022 you will need to register for new online banking and mobile banking services. To enroll online just follow these few steps:
Click on the Online Banking blue button
Click on Enroll in Online Banking
Follow the steps for enrollment and create a Logon ID and Security Code (password)
You must create your account online before you can use the mobile app.
After you have enrolled in online banking, you can download our new app on your smart phone! Just look for the CSD Credit Union app that looks like this: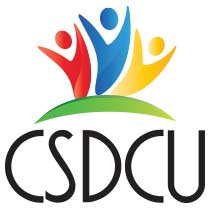 You will use your Online Banking Logon ID and Security Code to access your mobile banking app!
What's Not Changing
Branch Location: The current location at 6604 North Oak Trafficway, Gladstone, MO 64118 will remain open. The credit union also has a location at 8510 East Bannister Road, Kansas City, MO 64134.
Existing Employees: Northland employees will be retained so you can expect the same great member service you are accustomed to!
We are committed to making this exciting transition a seamless experience with as little interruption in the products, services, and account access that you rely on every day. If you have any questions please contact CSD Credit Union at 816-763-4020 or visit www.csdcu.org.
Once again, welcome to the CSDCU family!