We are excited to announce that effective December 1, 2020 Heartland Community Credit Union will be merging with CSD Credit Union! CSD has been serving the Kansas City community for over 60 years with the mission of providing financial services at a fair and equitable rate.
At CSD Credit Union, we work hard to live the credit union philosophy of people helping people every day. Service to our members comes above all else. Our employees are friendly people who genuinely care about our members and about one another.
Lashell Winston and Eugene Gazaway will be joining the CSDCU staff. So a familiar voice is only a phone call away!
Effective December 1, 2020 your accounts and loans will automatically transfer to CSD Credit Union. On that date, your account number will change to eight digits by placing a "1" and adding as many zeros as necessary at the beginning of your current account number to reach eight digits. For example, if your current account number is 1234 your new account number will be 10001234. If your account number is 12345 your new account number will be 10012345.
After November 30, 2020 you will need to register for new online banking and mobile banking services. To enroll online just follow these few steps:
Click on the Online Banking blue button
Click on Enroll in Online Banking
Follow the steps for enrollment and create a Logon ID and Security Code (password)
You must create your account online before you can use the mobile app.
After you have enrolled in online banking, you can download our new app on your smart phone! Just look for the CSD Credit Union app that looks like this: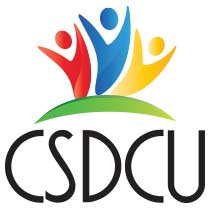 You will now use your Online Banking Logon ID and Security code to access your mobile banking app. Upcoming enhancements will include Mobile Deposit and the ability to view cleared checks.
Starting December 1, 2020 you will need to conduct your banking business at CSD Credit Union located at 8510 E. Bannister Rd, Kansas City, MO 64134. CSD Credit Union is open 9:00a – 5:00p Monday through Friday and 9:00a – 12:00p on Saturday. Due to COVID-19 the credit union is currently offering all services through the drive-thru or by phone at 816-763-4020.
We are committed to making this exciting transition a seamless experience with no interruption in the products, services, and the account access that you rely on every day. If you have any questions please contact CSD Credit Union at 816-763-4020 or visit www.csdcu.org.
Once again, welcome to the CSDCU family!